Saturday, January 16th, 2021 $25 per person Camp Omega, 22750 Lind Ave, Waterville MN 56096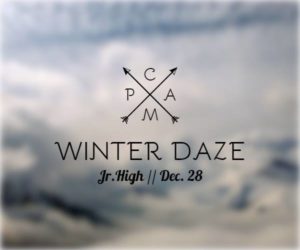 WHO: Jr. High Youth Groups
WHEN: January 16th, 2021
COST: $25 per person
Ministry Info
Join together with Jr High Students from across Southern Minnesota in a day in the snow playing, praying, learning, and growing together. Adult chaperones required (recommended 10:1 ratio). All programming will be provided by the Camp Omega staff.
Activities
Large group games, snow tubing with a tow rope, broomball, singing, and a devotion.
Registration
Click here to download the Winter Daze Registration Form. The event runs from 10 am to 4 pm, Lunch is provided.