Guests lodge in one of three types of facilities:
– Omega Lodge, a hotel style facility with private bathrooms with queen and double beds
– Bunkhouse Cabins, One of four bunkhouse style cabins (12 bunkbeds, 24 beds)
– Retreat Center, a two story facility with 54 bunkhouse-style beds on the upper level and meeting space on the lower level
– In addition, Camp Omega provides all guest groups with meeting facilities that include tables, chairs and audio visual equipment.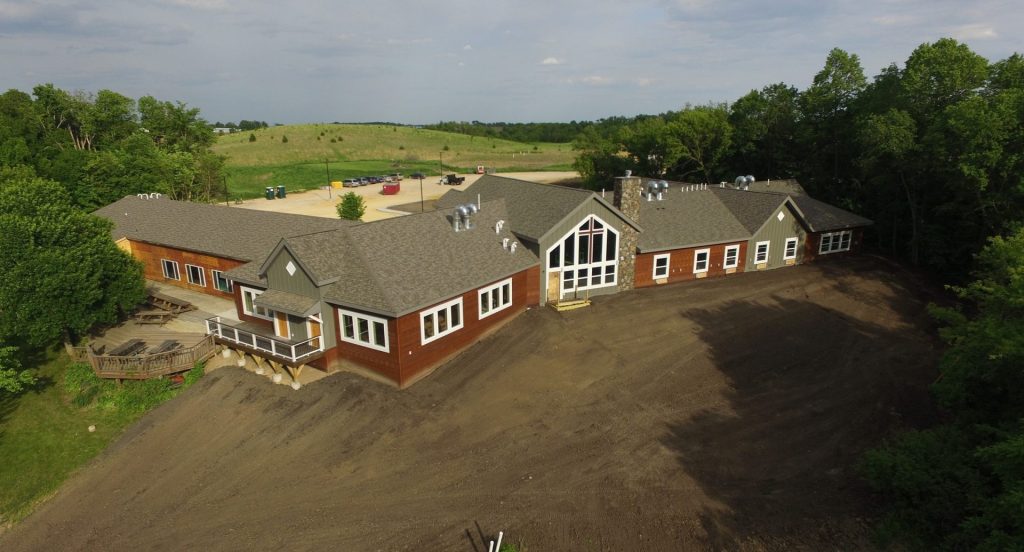 Omega Lodge is Camp Omega's newest facility designed with adults and families in mind. This facility includes 9 hotel-style bedrooms with private bathrooms and two double beds, a large conference room for 200+, a fireside room lounge, and a lobby with a wood fireplace. Tours are being given and reservations are being accepted.
Omega Lodge Images: Main Entrance & Parking, Lobby, Conference Room, Fireside Room, Guest Bedroom, Guest Bedroom Bathrooms
Retreat Center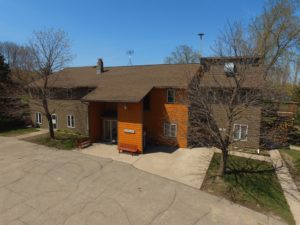 The Retreat Center offers groups 64 bunk-style beds, a fireplace, and a meeting room. Reserved for one group per weekend, the Retreat Center offers a lower level conference center with tables, chairs and audio visual equipment. The upstairs lodging areas are divided into six small rooms that sleep four each and two larger rooms that can accommodate 20. Bathrooms are located on each level; bathrooms with showers are located upstairs. While the building does not offer private bathrooms, each sleeping room does have a sink and mirror.

Retreat Center images: Lower Level Fireplace, Lower Level Meeting Space, Bedroom, Bunk Room.
Retreat Center floor plans: Main Level and Lodging Level.
Cabins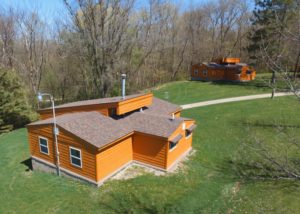 Camp Omega's five cabins each have a total of 24 bunk-style beds. Each cabin has two bathrooms and three bedroom areas. While each cabin generally offers the same floor plan, the Alpha and Gamma cabins may be subdivided for use by both males and females. Smaller, mixed groups often prefer one of these two cabins. Otherwise, a typical rental group reserves a least one cabin for males and one for females. Guests will need to bring their own bedding and towels. Groups staying in the cabins typically use the Beta Center or the Dining Hall as their meeting areas. Both meeting spaces are a short walk from the cabins.
Cabin floor plan: Floor plan.
Groups who rent lodging space automatically receive a meeting room(s) at no additional cost. All meeting rooms have tables, chairs, and a TV/VCR. If you would like a specific table arrangement or have other requirements, please let us know in advance.
Groups staying in the upper Retreat Center use the meeting rooms space provide in the lower level. Groups staying in the cabins use either the Beta Center or the Dining Hall for their meeting space. Beta Center, a two-level building, offers two meeting rooms and typically serves groups of less than 30 people. Larger groups use the Dining Hall.
Beta Center
The Beta Center serves as one of Camp Omega's multipurpose building. The upper level and lower level each have one identical meeting room with an optional divider curtain. Upper Beta is carpeted. Besides the meeting rooms, the Beta Center also houses Canteen (the camp store), restrooms, arts & crafts, and laundry. Right outside the Beta Center is a place know as Beta Center Commons where guests can gather with friends and enjoy God's creation.
Dining Hall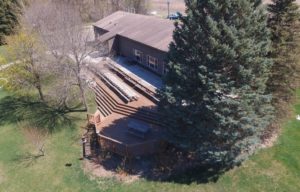 The Dining Hall serves as a meeting space for larger groups. The Dining Hall offers a scenic view of the camp and plenty of room for group activities. Groups meeting in the Dining Hall are asked to end any meetings at least 15 minutes before meals so that the room can be arranged for dining.
Retreat Center
Groups using the Retreat Center for their lodging also use the Retreat Center meeting areas. The lower Retreat Center can be divided into two meeting spaces with an optional divider curtain. The lower Retreat Center also has a fireplace, couches, and a small refrigerator. View the Retreat Center pictures above.