Leadership Training COVID-19
As a result of the cancellation of youth programming, Leadership Training Camp will also be cancelled and no service weeks will be scheduled for YSL's. You are still welcome to encourage your family to reserve a cabin, outpost, or come tent or RV at Camp Omega and participate in Family Camp.
Thank you to our youth servant leaders for all for your patience, love, and hard work. You bring a bright light to summer at Camp Omega, and it saddens us that this pandemic affects your ability to serve and share Jesus at camp. You are the present and future leadership of camp, and we are heartbroken. Thank you for all you do to serve the Kingdom.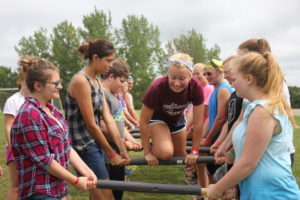 This leadership training camp gives high-school-aged students the tools to succeed and grow in the Christian faith, as well as provide skills to serve as Christian leaders at camp and in the community.
Looking for more hands-on leadership experience than this leadership week? YSL's assist counselors in providing for the physical, emotional, and spiritual well-being of campers. Leadership Training is mandatory for those applying to serve as a YSL. If you are high-school-aged and will be 15 years old by June, you can become a YSL this summer. Get ready to make a difference!
Leadership Training Dates 15-18 year olds: June 7-12,  June 14-19 CANCELLED
Cost: $210 on or before March 1; $220 after March 1