Off-Site Day Camp COVID-19
Along with other cancellations, Camp Omega's staff and Board of Directors have deemed it necessary to cancel off-site day camp programming for the entire summer. Camp Omega continues to value these important church partnerships, and we will encourage and support congregations in however they choose to proceed with their youth summer programming. If you have questions, concerns, or need resources that we might be able to provide, please contact info@campomega.org.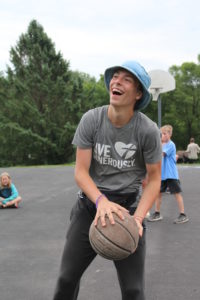 The Traveling Day Camp Ministry Program brings Camp Omega to your community and congregation!
Mission
Camp Omega partners with local congregations to lead a five-day congregation-based Traveling Day Camp program for children in grades 1-6. We strive to enable all campers to experience God's grace, love, and guidance through hands-on Bible Study, devotions, skits, games, and other traditional camp-related activities.
Goals
The Day Camp program encompasses congregational, community, and Christian goals. We aim to:
Share the Gospel of Jesus Christ, Provide participants an opportunity to hear the good news of Jesus, grow in Christian community, meet committed Christian role models, and participate in fun activities.
Strengthen the congregation's Christian Education and Children's Ministry
Provide an opportunity for congregations to reach out and build relationship with families of the community
Build community among the congregation's adults and youth
Assist the congregation with their summer ministry programs
Introduce children and families to Camp Omega
Forms for congregational participation in the Day Camp Program: